Cheryl's clients share their experience with clicker training to improve their dog's behavior.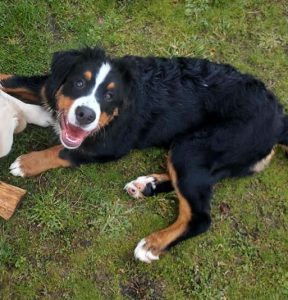 Cheryl is an amazing trainer! She is loving, focused and knowledgeable. My Bernese Mt. Dog loved her and enjoyed engaging with her, learning quickly. Cheryl has the touch. I highly recommend her….her methods are sound and effective and everyone, including me, had fun!
-Beth W.
"Cheryl is the BEST!! Our dog responds so well to her method we all look forward to working with her. We have done both private and group lessons."
Gary & Claudia C.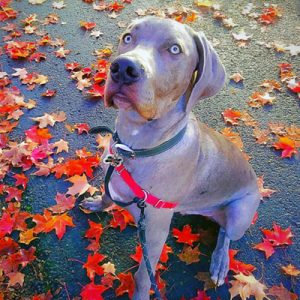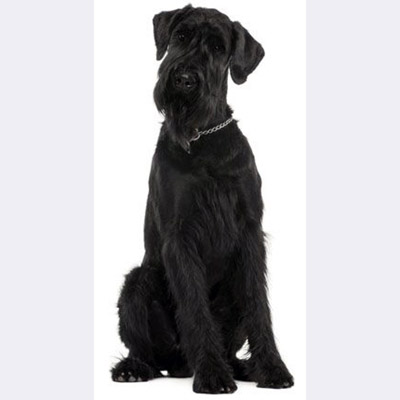 "Cheryl was so helpful in training our giant schnauzer puppy! We had no idea how much our dog would love learning new skills and it truly improved the dynamics of our household. The fact that Cheryl comes to your house is convenient and really helps since the dog is used to the environment (and often that's where the problems occur). If you want an effective dog trainer that clearly loves dogs, I highly recommend For the Love of Dogs!"
-Julia S.
"We adopted a pit bull, Jersey Girl, from the Oregon Humane Society. She is young, about 1.5 – 2 yo, and was picked up off the streets of LA before being transferred to OHS.
She was WAY more of a handful than we bargained for. Not a mean bone in her body, but high-energy, wanting to jump and bite hard as a way of engaging in play. It was bordering on dangerous, and our arms and legs were soon covered in bruises. It became apparent to us that she had probably never lived inside before except for shelters, and had probably suffered abuse at the hands of a male. She tended to cower around me (and no, I never raised a hand to her), and use my wife as a play toy. I've owned a lot of dogs in my life, some puppies and some not, but I was at a loss on where to start with her. We thought about taking her back, but we couldn't have lived with it.
So, we got help. Cheryl at "For the Love of Dogs" helped us understand our dog. We purchased a package of 10 in-home lessons. Her method (clicker training) is pure positive enforcement, and our dog responded immediately to it. My wife had to do most of the training due to Jersey's fear of men, but that gave them the opportunity to establish a more healthy relationship while I just focused on bonding. Training takes time, so Cheryl also helped us find ways to separate ourselves from Jersey when things started to get out of hand. She even met with us at the dog park so we could introduce Jersey to being around other dogs.
We just completed the package, and now have the tools we need to continue the work and already enjoy a much-improved relationship with our sweet Jersey. All she ever wanted was to please us and be loved, and now we are able to work with her to learn how. I have a dog to run with, and she adds lots of positive energy to our home. She even lets me train with her now.
We can highly recommend Cheryl and For the Love of Dogs Training."
-Larry A.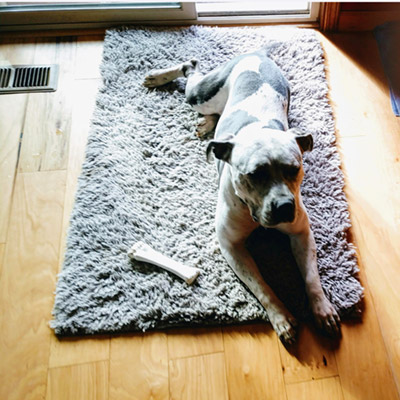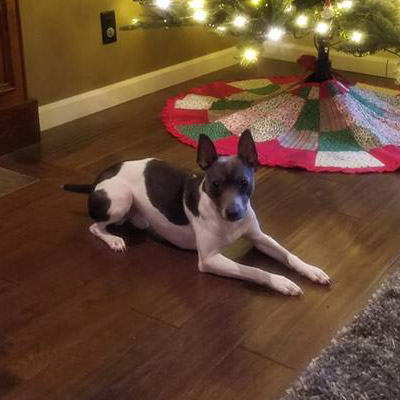 Cheryl is awesome! I took my very high energy rat terrier puppy to one of her puppy training classes and Cheryl was very helpful with handling him. She is very passionate about what she does and truly loves all dogs no matter what breed they are. Definitely worth the money and I will be taking more classes from her!
-Lindsy H.
"Cheryl is thoughtful and professional and a wonderful trainer! My little Wolfie sure responds to the training. I highly recommend Cheryl!"
-Susan H.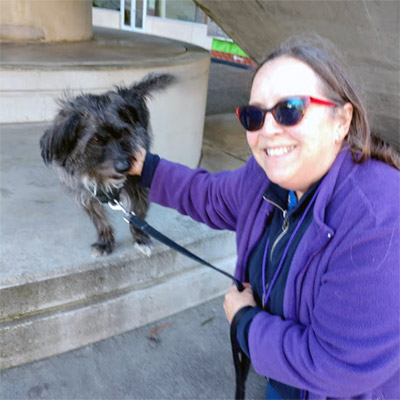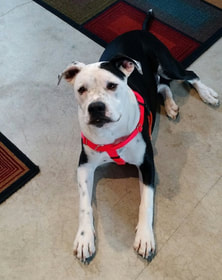 "Brought out the best in him!"
"Thank you for the incredible dog training for my dog Murphy. As a pitbull-boxer mix he's an ambassador for his breed. He's so loving and cares so much for the family. You helped me bring out the best in him!
~Linda C.
"Such a great experience, we called her back to help with our second!"
​"Cheryl is amazing at the work she does. Her love for dogs really shows in the way she trains them and the dogs respond quickly to her techniques. She is also very good in her communication with us, the client, as we really are getting trained as well! We had such a great experience with her training our first dog that we called her back to help with our second and newest one! We are very happy with the results from practicing her training techniques with our dogs!"

~Rebecca and Adam S.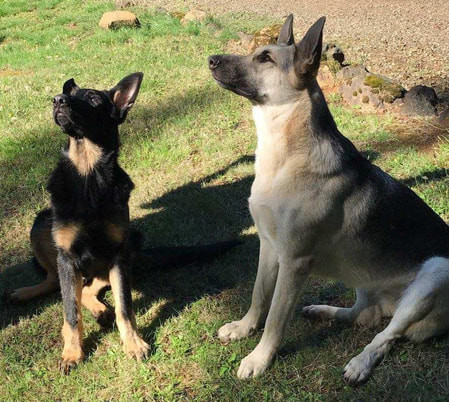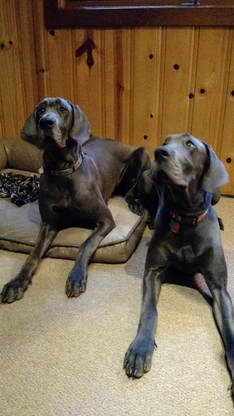 "We are forever grateful!"
"As anyone can imagine, two Great Dane puppies would be a handful! Our situation became more than just busy when one of our girls started exhibiting some aggressive behaviors towards her sibling, as well as our lab and beagle. Our vet recommended Cheryl as a skilled and effective certified dog trainer. Cheryl started coming out to our home to work with both Danes. Within just a few sessions, Lexi was lessening the aggressiveness, and Delilah was building her confidence! With much practice, we now have a pack of happy, appropriately playful dogs! Thank you Cheryl for all your wise insight! We are forever grateful! We are looking forward to working with you again for some loose leash walk training this Spring."
​~Corey and Jen Malcom, Banks, OR
"We're Better Trainers, Finally Have Our Dream Dog and a New Friend"
"Before we met Cheryl, we took our dog Mojo to several training classes. He's super smart and well-behaved most of the time, but we needed some help training his loose-leash walking and barking at strangers. No one was able to help. 
Enter Cheryl. She helped us train Mojo's disruptive behaviors, and we also became friends. We really looked forward to her visits, and she quickly became part of our extended family. 5/5 stars!"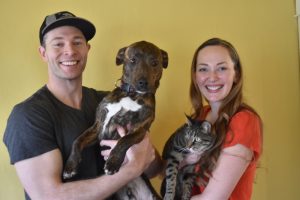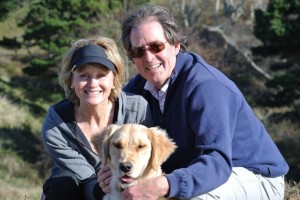 We All Learned So Much!
"Cheryl made our dog training, with Lily (our third golden retriever), easy and fun! We all learned so much – so fast – with her clicker training technique.
We miss seeing Cheryl now, as our training sessions are over. She is a very special person – both to us AND our dog! We pass out Cheryl's business cards to anyone in need of a good dog trainer."
~ Lori, Lee, and Lily
Successful, Fun, and Rewarding!
"We have had several dogs, and this is our first experience with a professional trainer and clicker training. The experience was very positive and something I would highly recommend.
It was obvious that our boxer enjoyed the class sessions and our at-home practice as well. In addition to having a better behaved dog and one that knows some useful commands (such as a good recall) this was a fun activity for both our dog and us and also good socialization. The clicker training is quite amazing. It does not take long for the dog to figure this out and adding new
behaviors then becomes easy.
Cheryl was able to give us great examples of how to teach new behaviors and made this
​successful, fun, and rewarding
~ Dale M.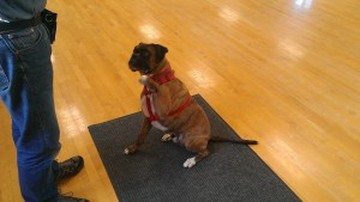 Audrey trains her golden doodle to bow.
Watch the success that Cheryl's client Audrey has using clicker training to teach her golden doodle to bow.
Clicker Training Brought Out the Best in Blue
"Blue, my doodle puppy, is a bright dog and was a challenge for me. I took private lessons and group puppy classes from Cheryl. Clicker training is a remarkable way to train and brought out the very best in Blue and my ability to train him. Cheryl's training knowledge of dogs and the ability to communicate with their pet partners is outstanding. 
I would recommend Cheryl to any dog owners who want the very best training for their dogs."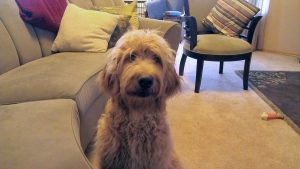 Joey is a Changed Dog
Our dog Joey is a rescue and we had him for about a year before we called Cheryl. We love Joey so much from the beginning, but he was so trying, didn't listen, didn't know how to accept or show love, and biting us when we wanted to just hold him.
Cheryl taught us much more than she taught him, she made us understand his behaviors and how to respond to him. We were taught clicker training and simple behaviors and these made such a difference in Joey. She is loving, understanding and most of all she loves Joey.
I would recommend Cheryl to anyone in need.
​~ Jill Altman and Ben Carman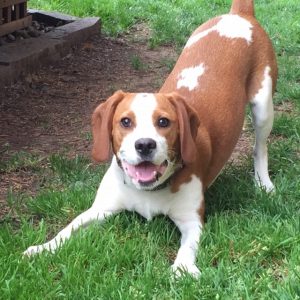 Review from Angie's List from David T.
North Plains, Oregon
Date: May 26, 2015
Hire Again: Yes
Description Of Work: 
Cheryl provided a weekly group training session for our dog and others. She showed us how to train him to do positive things by both guiding him and by capturing things he was already doing well.
Member Comments: 
It went great. This was a much more rewarding experience than I had hoped for. It is clear that Cheryl loves dogs deeply and they love her right back. I am sure my dog considers Cheryl his best friend. She was a tremendous resource in training us and our dog. I am constantly amazed at how smart he is and how obedient he has become despite his young age.
Cheryl is responsive and caring and I will definitely bring this dog back for more advanced training later – and any other dogs or puppies I get along the way. I am so glad I chose to give her a call.
Review from Angie's List by Eleanor G., 
Banks, Oregon
Date: February 25, 2011
Hire Again:  Yes
Description Of Work:  Private one hour sessions at my home, as well as small group classes at a local community building.
Member Comments:
Cheryl Flemming is extremely knowledgeable and professional about working with dogs of all ages, sizes and breeds (and their people!). She keeps up to date on her profession by frequently taking courses and training herself on best methods for training dogs. I have a rambunctious Welsh Springer Spaniel puppy that she has been helping me with.  Cheryl's patience is extraordinary! She sets a really good example so that I too remain calm in my training methods. Her demeanor is so calm and quiet. 
Cheryl asked me a lot of questions to get a sense of the dog and what behaviors I would like to work on with her training. She is very flexible with her suggestions, so that the exercises she teaches the owner to do with their dog will be a good fit for the what the owner will feel comfortable with. As Cheryl is evaluating the temperament and behavior of your dog, she explains to the owner what she is seeing, and she picks up on the smallest details of the dog's behavior.

You can tell Cheryl really loves dogs.  My dog responds very positively to Cheryl and her methods.  The training sessions are productive and enjoyable for all.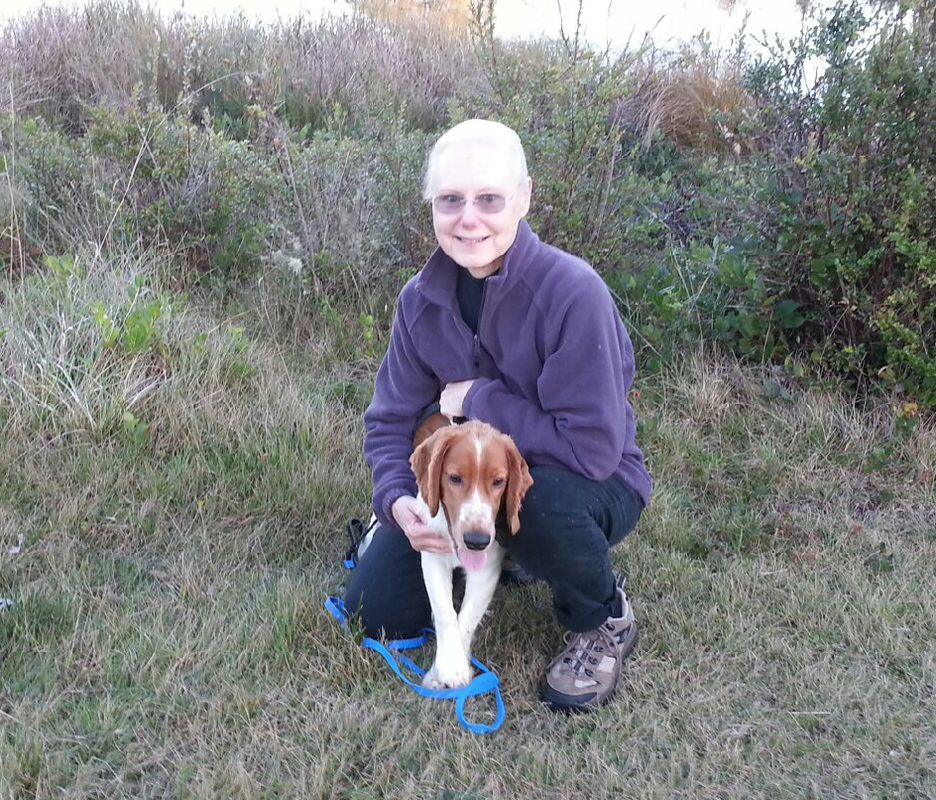 Wiley is doing so great!
"Wiley is doing so great! We went for a 6 mile hike this past weekend in Forest Park and encountered quite a few different people and some dogs. Wiley was such an angel! He didn't bark once and was able to sit and and stay focused as folks and their dogs passed by. Wiley even stayed calm when eight joggers ran by us. He sniffed hello to another reactive dog that we encountered and his hackles rose a little, so we walked away. We both had such an enjoyable and relaxing time. Thank you so much for your wonderful training!"  ~ Danielle C.